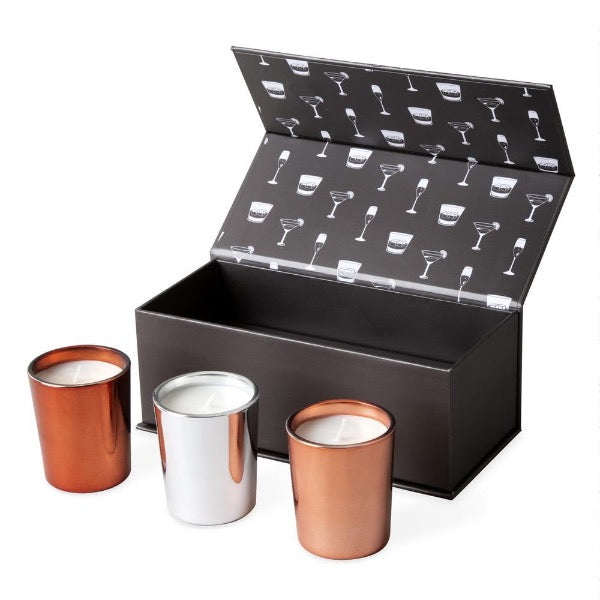 pick your poison votive set
hangover-free hedonism. three of our lushest scents—champagne, bourbon, and vodka—each poured into a glamorous glass vessel finished with a metallic shine. perfect bud vases or glasses long after the candle has burnt out.
champagne smells like: pink grapefruit, raspberry, French cassis, violet leaves, rose petal, grape leaf
champagne feels like: New Year's Eve, silk-satin sheets, a million bucks
bourbon smells like: Davana, cognac, plum, leather accord, birch tree, cedar wood
bourbon feels like: William Faulkner, a Secret Society at Yale, buckskin breeches, a date with your ex
vodka smells like: Zest lime slices, pink grapefruit, tonic spritzer, crushed cilantro, gin accord, bamboo water, fresh musk, sheer woods
vodka feels like: an igloo hotel, Elaine Stritch, a chic after party, a Brezhnev-era high-rise
packaged in a nifty gift box.
three (3) 2.3oz candles, 2.25" dia, 2.75" h each, glass vessels with metallic plating.
trimming the wick regularly will help your candle burn at a slower rate
do not let the candle burn all the way down—overheating will occur